Steve Wonder Sheet Music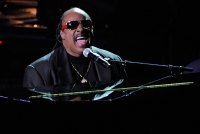 better known by his stage name Stevie Wonder, is an American singer, songwriter, musician and record producer. A prominent figure in popular music, he is one of the most successful musicians of the 20th century. Wonder's "classic period", between 1972 and 1977, is noted for his funky keyboard style, personal control of production, and series of songs integrated with one another to make a concept album.
Blind since shortly after his birth, Wonder was a child prodigy known as Little Stevie Wonder leading him to sign with Motown's Tamla label at the age of 11. In 1963, the single "Fingertips" was a No. 1 hit on the US Billboard Hot 100 when Wonder was aged 13, making him the youngest artist ever to top the chart. Wonder started his "classic period" with Music of My Mind and Talking Book (both 1972), the latter of which featured the No. 1 hit "Superstition". It is one of the most distinctive and famous examples of the sound of the Hohner Clavinet keyboard. Innervisions (1973) won Album of the Year at the 16th Grammy Awards. Fulfillingness' First Finale (1974) also won Album of the Year at the 17th Annual Grammy Awards. Songs in the Key of Life (1976) won Album of the Year at the 19th Annual Grammy Awards, making Wonder, along with Frank Sinatra, the most Album of the Year's winner with three. He is also the only artist to have won the award with three consecutive album releases. Wonder's 1970s albums are regarded as very influential; the Rolling Stone Record Guide said they "pioneered stylistic approaches that helped to determine the shape of pop music for the next decade".
Search for Free Sheet Music

You can make a search through the entire collection of sheets.
Latest Artists