Henryk Wieniawski Sheet Music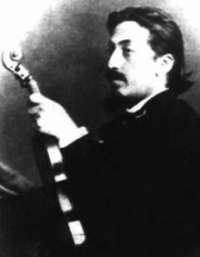 Henryk Wieniawski (10 July 1835 – 31 March 1880) was a Polish violinist and composer. He was considered a violinist of genius and wrote some of the most important works in the violin repertoire, including two extremely difficult violin concertos, the second of which (in D minor, 1862) is more often performed than the first (in F♯ minor, 1853). His "L'Ecole Moderne, 10 Etudes-Caprices" is a very well known and required work for aspiring violinists. His Scherzo-Tarantelle, Op. 16 and Légende, Op. 17 are also frequently performed works. He also wrote two popular mazurkas for solo violin and piano accompaniment (the second one, Obertas, in G Major), using techniques such as left-hand pizzicato, harmonics, large leaps, and many double stops. Wieniawski has been given a number of posthumous honors. His portrait appeared on a postage stamp of Poland in 1952 and again in 1957. A 100 Złoty coin was issued in 1979 bearing his image.
What is sometimes called the "Russian bow grip" ought to be called the "Wieniawski bow grip": Wieniawski taught his students his own kind of very stiff bowing that allowed him to play a "devil's staccato" with ease. This "devil's staccato" was easily used to discipline students.
Search for Free Sheet Music

You can make a search through the entire collection of sheets.
Latest Artists