David Bowie Sheet Music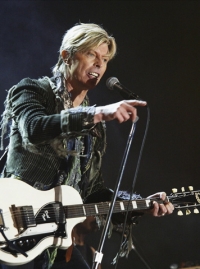 David Bowie (born David Robert Jones on 8 January 1947) is an English musician, actor, producer, and arranger. Active in five decades of rock music and frequently reinventing his music and image, Bowie is regarded as an influential innovator, particularly for his work through the 1970s.
Although he released an album and numerous singles earlier, David Bowie first caught the eye and ear of the public in the autumn of 1969, when his space-age mini-melodrama "Space Oddity" reached the top five of the UK singles chart. After a three-year period of experimentation he re-emerged in 1972 during the glam rock era as a flamboyant, androgynous alter ego Ziggy Stardust, spearheaded by the hit single "Starman" and the album The Rise and Fall of Ziggy Stardust and the Spiders from Mars. The relatively short-lived Ziggy persona epitomised a career often marked by musical innovation, reinvention and striking visual presentation.
In 1975, Bowie achieved his first major American crossover success with the number-one single "Fame" and the hit album Young Americans, which the singer identified as "plastic soul". The sound constituted a radical shift in style that initially alienated many of his UK devotees. He then confounded the expectations of both his record label and his American audiences by recording the minimalist album Low – the first of three collaborations with Brian Eno. Arguably his most experimental works to date, the so-called "Berlin Trilogy" nevertheless produced three UK top-five albums.
After uneven commercial success in the late 1970s, Bowie had UK number ones with the 1980 single "Ashes to Ashes" and its parent album, Scary Monsters (and Super Creeps). He paired with Queen for the 1981 UK chart-topper "Under Pressure", but consolidated his commercial – and, until then, most profitable – sound in 1983 with the album Let's Dance, which yielded the hit singles "China Girl", "Modern Love", and most famously, the title track.
In the BBC's 2002 poll of the 100 Greatest Britons, Bowie ranked 29. Throughout his career he has sold an estimated 196 million albums,
Search for Free Sheet Music

You can make a search through the entire collection of sheets.
Latest Artists