Edith Piaf Sheet Music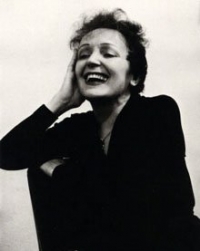 Édith Piaf (19 December 1915—10 October 1963) was a French singer and cultural icon who "is almost universally regarded as France's greatest popular singer." Her singing reflected her life, with her specialty being the ballads. Among her famous songs are "La vie en rose" (1946), "Hymne à l'amour" (1949), "Milord" (1959), "Non, je ne regrette rien" (1960), and Padam Padam.
Edith Piaf's signature song "La vie en rose" was written in 1945 and was voted a Grammy Hall of Fame Award in 1998.
The legendary Paris Olympia concert hall is where Piaf achieved lasting fame, giving several series of concerts at the hall, the most famous venue in Paris, between January 1955 and October 1962. Excerpts from five of these concerts (1955, 1956, 1958, 1961, 1962) were issued on record and CD and have never been out of print. The 1961 concerts were promised by Piaf in an effort to save the venue from bankruptcy and where she debuted her song "Non, je ne regrette rien". In April 1963, Piaf recorded her last song, "L'homme de Berlin".
Search for Free Sheet Music

You can make a search through the entire collection of sheets.
Latest Artists