Zina Goldrich Sheet Music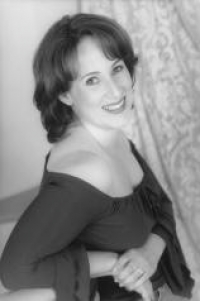 Zina Goldrich (born 1964) is a musical theater composer. She is most known for her work with lyricist Marcy Heisler.
Goldrich and Heisler are currently working on the musical adaptation of Ever After, (the Drew Barrymore Cinderella movie produced by 20th Century Fox) which was scheduled to have its world premiere at the Curran Theatre in San Francisco in November 2009, but has been indefinitely postponed.
The duo has performed at Carnegie Hall, Birdland, and other venues including the Kennedy Center in Washington D.C. Goldrich and Heisler wrote the Off-Broadway show, Junie B. Jones, a musical version of the popular character created by author Barbara Park, produced by Theatreworks USA, which received a 2005 Lucille Lortel Award nomination for Outstanding Musical. An expanded version of the musical was staged in late 2005 at the Lucille Lortel theater; both the original and expanded productions received reviews in The New York Times.
"Taylor the Latte Boy", the Goldrich & Heisler song associated with Kristin Chenoweth—who sang "Taylor" on The Rosie O'Donnell Show and The Late Late Show as well as at the Metropolitan Opera House—has also been performed by other singers including Susan Egan and John Tartaglia. They also wrote the cult-hit "Alto's Lament" which is a song about a soprano who always gets stuck singing the alto parts.
Zina has played the keyboards in Broadway orchestra pits, including Avenue Q, Oklahoma!, Bombay Dreams, Grand Hotel and conducted at Titanic. With Marcy Heisler, she has written songs for the Disney characters, Winnie the Pooh, Timon and Poomba; they are also contributors to the Disney Channel's Johnny and the Sprites. She currently composes for Wonderpets on Nickelodeon.
Search for Free Sheet Music

You can make a search through the entire collection of sheets.
Latest Artists