Ben Folds Sheet Music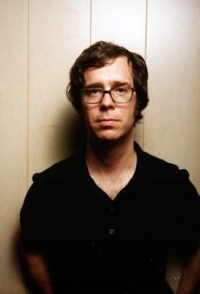 Benjamin Scott Folds (born September 12, 1966 in Winston-Salem, North Carolina) is an American singer and pianist. He originally gained fame as a member of the rock band, Ben Folds Five. Ben has released three solo albums: Fear of Pop: Volume 1, Rockin' the Suburbs, and Ben Folds Live. Fear of Pop was released while Ben Folds Five were still together; Suburbs and Live were released afterwards. Since Fear of Pop is highly experimental and Live is a collection of live solo recordings of mostly songs originally recorded with Ben Folds Five, Rockin' the Suburbs is Ben's first proper solo release. In late 2003 two solo EPs: Speed Graphic and Sunny 16 were released, with a third entitled Super D released in mid-2004. He currently resides in Adelaide, Australia with his wife, Frally Hynes, and two children, Louis and Grace. He tours Japan and the United States, as well as other parts of the world periodically.
Folds also produced and arranged the most recent William Shatner album, Has Been (2004); he previously worked with Shatner on the songs 'In Love' and 'Still in Love' for Fear of Pop.
Folds described his former band, Ben Folds Five, as 'punk rock for sissies,' and his oddball lyrics often contain nuances of depression, melancholy and self-conflict. While he was with the band Ben Folds Five and since his departure, Folds also provided a number of songs for films soundtrack. Some of these include 'Lonely Christmas Eve' for the film How the Grinch Stole Christmas! (2000) and a rendition of the Beatles' 'Golden Slumbers' for the film I Am Sam (2001).
On a planned tour of Australia, Folds teamed up with fellow namesakes Ben Kweller and Ben Lee to travel the country together as The Bens, at the suggestion of a fan on Ben Kweller's official website. The trio also went on to record an four-track EP together, entitled The Bens.
In summer of 2004, Folds co-headlined an American tour with fellow rockers Rufus Wainwright and Guster. His fourth solo album entitled 'Songs for Silverman' is slated for release on April 26, 2005.
Search for Free Sheet Music

You can make a search through the entire collection of sheets.
Latest Artists