Paul Baloche Sheet Music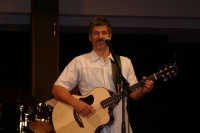 Paul Baloche (born on June 4, 1962) is an American Christian music artist, worship leader, and singer-songwriter. A native of Maple Shade, New Jersey, Baloche is currently the worship pastor at Community Christian Fellowship in Lindale, Texas. Baloche composes on piano and acoustic guitar, favoring guitar when leading worship. His wife, Rita Baloche, is also a Christian songwriter. Baloche is one of the writers for Compassionart, a charity founded by Martin Smith from Delirious?.
Several Christian artists, such as Michael W. Smith and SONICFLOOd, have recorded Baloche's songs. Many of his songs are among the most performed songs in services according to CCLI, a company that handles copyright licensing of Christian songs and other resource materials for use in churches. Among them are "Open the Eyes of My Heart" (ranked number 2) and "Above All" (ranked number 22), cowritten with Lenny Leblanc. "Above All" was nominated for Song of the Year in both the 2002 and 2003 Dove Awards, and in 2002, Michael W. Smith's recording of that song won Inspirational Recorded Song of the Year. Baloche was also nominated for Songwriter of the Year in 2002. In 2009, Baloche won a Dove Award for Inspiration Recorded Song of the Year as coauthor of "A New Hallelujah" with Michael W. and Debbie Smith.
Baloche uses his position as a recording artist to provide resources for churches. His catalog of six albums is focused on providing worship music for the listener to worship along with, and for churches to use in their own services. His albums are released by Hosanna! Music, a division of Integrity Music. Through Integrity, Baloche has also written a book, God Songs, and released instructional DVDs that cover a variety of issues central to contemporary worship, such as music styles, music theory, creating flow in worship, and guitar techniques (including his methods on open chord voicings). In addition to his material output, Baloche participates in several seminars for worship leaders and musicians throughout North America and Asia.
The 2006 release A Greater Song is a live recording featuring songs by Baloche, some cowritten with worship artists including Matt Redman ("A Greater Song") and former Integrity Music president Don Moen ("Thank You Lord").
The 2009 release Glorious featured the single "Just To Be With You," which Baloche explained "is simply about intimacy with God."
Search for Free Sheet Music

You can make a search through the entire collection of sheets.
Latest Artists