Castlevania Dawn of Sorrow Sheet Music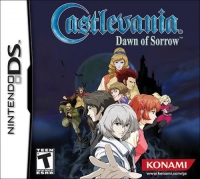 Castlevania: Dawn of Sorrow is an action-adventure game developed and published by Konami. It is part of Konami's Castlevania video game series and the first Castlevania game released on the Nintendo DS. The game is the sequel to Castlevania: Aria of Sorrow and incorporates many elements from its predecessor. Dawn of Sorrow was commercially successful. It sold more than 15,000 units in its first week in Japan and 164,000 units in the United States during the three months after its initial release.
Dawn of Sorrow continues the story of Aria of Sorrow. Dracula has been completely defeated, and his powers assumed by his reincarnation, Soma Cruz. With the help of his allies, Soma avoids becoming the new dark lord. A cult forms to bring forth a new dark lord by killing Soma. Soma and his allies move to ensure a new dark lord is not created.
Search for Free Sheet Music

You can make a search through the entire collection of sheets.
Latest Artists