Tadeusz Baird Sheet Music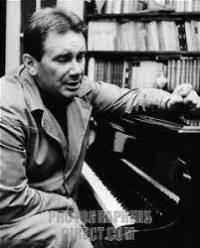 Tadeusz Baird (26 July 1928 – 2 September 1981) was a Polish composer.Baird was born in Grodzisk Mazowiecki, in Poland. His father Edward was Scottish, while his mother Maria (née Popov) is Russian. In 1944 at the age of 16 he was deported to Germany as a forced labourer, and after a failed escape attempt was imprisoned in a concentration camp. After liberation by the Americans he spent six months recovering at the military hospital in Zweckel before returning to Poland. Between 1947 and 1951 Baird studied composition and musicology in Warsaw under Piotr Rytek and Kazimierz Sikorski, and piano with Tadeusz Wituski. In 1949 he founded Group 49 along with Kazimierz Serocki and Jan Krenz. The aim of Group 49 was to write communicative and expressive music according to socialist realism, the dominant ideology in the Eastern Bloc at the time.
Search for Free Sheet Music

You can make a search through the entire collection of sheets.
Latest Artists