Prince Sheet Music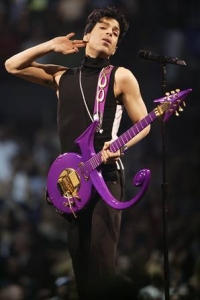 Prince Rogers Nelson (born 7 June 1958 in Minneapolis, Minnesota) is an American musician. He performs simply as Prince, but has also been known by various other names, among them an unpronounceable symbol, leading fans and critics to dub him The Artist Formerly Known As Prince or simply The Artist.
Prince is a prolific artist, having released several hundred songs both under his own name and with other artists. He has won six Grammy Awards and an Academy Award, and was inducted into the Rock and Roll Hall of Fame in 2004. In 2004, he was named as the top male pop artist of the past 25 years by ARC Rock on the Net, and Rolling Stone Magazine ranked Prince #28 on their list of the 100 Greatest Artists of All Time.
From his early material, rooted in R&B, soul and funk, Prince has expanded his musical palette throughout his career, absorbing many other genres including pop, rock, jazz, new wave, psychedelia and hip hop. Some of his primary influences include Sly Stone, Curtis Mayfield, Jimi Hendrix, Joni Mitchell, James Brown and Carlos Santana. The distinctive characteristics of his early-to-mid 1980s work, such as sparse and industrial-sounding drum machine arrangements and the use of synthesizer riffs to serve the role traditionally occupied by horn riffs in earlier R&B, funk and soul music, were called the "Minneapolis sound" and have proved very influential.
Search for Free Sheet Music

You can make a search through the entire collection of sheets.
Latest Artists