Beauty and the Beast Sheet Music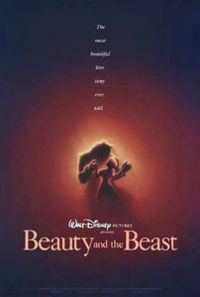 Beauty and the Beast is a 1991 animated American family film. It is the thirtieth animated feature produced by Walt Disney Feature Animation. The film received its premiere at the El Capitan Theatre in Hollywood on November 13, 1991. This film, one of the best known of the Disney studio's films, is based on the well-known fairy tale Beauty and the Beast, about a beautiful woman kept in a castle by a horrific monster. It is the first and only full-length animated feature film to ever be nominated for an Academy Award for Best Picture (it lost to The Silence of the Lambs). Heightening the level of performance in the era known as the Disney Renaissance (1989-1999, beginning with The Little Mermaid and ending with Tarzan ), many animated films following its release have been influenced by its blending of traditional animation and computer generated imagery.
Beauty and the Beast ranked 7th on the American Film Institutes's list of best animated films, #22 on the Institutes's list of best musicals and #34 on its list of the best romantic American movies. On the list of the greatest songs from American movies, Beauty and the Beast ranked #62. The film was adapted into a Broadway musical of the same name, which ran from 1994 to 2007.
In 2002, Beauty and the Beast was added to the United States National Film Registry as being deemed "culturally, historically, or aesthetically significant." In January of the same year, the film was reissued in IMAX format in a special edition edit including a new musical sequence. A two-disc Platinum Edition DVD release followed in October.
Search for Free Sheet Music

You can make a search through the entire collection of sheets.
Latest Artists