Tommaso Giordani Sheet Music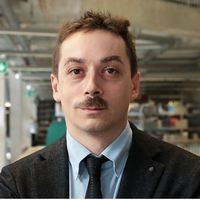 Tommaso Giordani (c. 1730 to 1733 – before 24 February 1806) was an Italian composer active in England and particularly in Ireland.Giordani was born in Naples between 1730 and 1733 and came from a musical family. His father was Giuseppe Giordani senior, born around 1695 in Naples, died after 1762, probably in London (no relation to the Neapolitan organist Carmine Giordani b. 1685). A possible younger brother was Giuseppe Giordani (1751–1798), called "Giordanello". Tommaso was trained in Naples and moved with his father and siblings (including singer Nicolina) via Graz (1747), Salzburg and Frankfurt (1750), Amsterdam (1752) and Paris (1753) to London, where they performed four burlettas at Covent Garden in the 1753–4 season. Although the family performed in London for the next two years, Tommaso is not mentioned in the newspaper reports of the time.
Search for Free Sheet Music

You can make a search through the entire collection of sheets.
Latest Artists