Billy Thorpe Sheet Music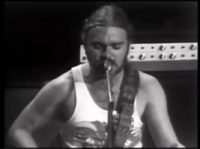 William Richard "Billy" Thorpe, AM (29 March 1946 – 28 February 2007) was a renowned English-born Australian pop / rock singer-songwriter and musician. As lead singer of his band, Billy Thorpe & the Aztecs, he had success in the 1960s with "Blue Day", "Poison Ivy", "Over the Rainbow", "Sick and Tired", and "Mashed Potato"; and in the 1970s with "Most People I Know Think That I'm Crazy". Featuring in concerts at Sunbury Pop Festivals and Myer Music Bowl in the early 1970s, the Aztecs also developed the pub rock scene and were one of the loudest groups in Australia.
Thorpe also performed as a solo artist, he relocated to the United States from 1976 to 1996 where he released the space opera, Children of the Sun, which peaked in the top 40 of the Billboard Pop Album chart in 1979. He worked with ex-Aztec, Tony Barber to form a soft toy company in 1987 and co-wrote stories for The Puggle Tales and Tales from the Lost Forests. Thorpe also worked as a producer and composed music scores for TV series including, War of the Worlds, Star Trek: The Next Generation, Columbo, Eight Is Enough and Hard Time on Planet Earth.
Thorpe returned to Australia in 1996 and continued as a performer and producer, additionally he authored two autobiographies, Sex and Thugs and Rock 'n' Roll (1996) and Most People I Know (Think That I'm Crazy) (1998). According to Australian rock music historian, Ian McFarlane, "Thorpie evolved from child star, beat pop sensation and cuddly pop crooner to finally emerge as the country's wildest and heaviest blues rocker Thorpie was the unassailable monarch of Australian rock music". Thorpe was inducted into the Australian Recording Industry Association (ARIA) Hall of Fame in 1991. He died of a myocardial infarction in February 2007 and was posthumously appointed a Member of the Order of Australia in June for his contribution to music as a musician, songwriter and producer.
Search for Free Sheet Music

You can make a search through the entire collection of sheets.
Latest Artists