Tom Waits Sheet Music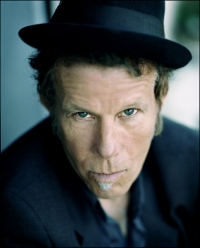 Thomas Alan Waits (born 7 December 1949) is an American singer-songwriter, composer, and actor. Waits has a distinctive voice, described by critic Daniel Durchholz as sounding "like it was soaked in a vat of bourbon, left hanging in the smokehouse for a few months, and then taken outside and run over with a car." With this trademark growl, his incorporation of pre-rock styles such as blues, jazz, and vaudeville, and experimental tendencies verging on industrial music, Waits has built up a distinctive musical persona. He has worked as a composer for movies and musical plays and as a supporting actor in films, including The Fisher King, Coffee & Cigarettes, Bram Stoker's Dracula, and Short Cuts. He was nominated for an Academy Award for his soundtrack work on One from the Heart.
Lyrically, Waits' songs contain atmospheric portrayals of bizarre, seedy characters and places, although he has also shown a penchant for more conventional ballads. He has a cult following and has influenced subsequent songwriters despite having little radio or music video support. His songs are best-known to the general public in the form of cover versions by more visible artists—for example, "Jersey Girl," performed by Bruce Springsteen; "Downtown Train" and "Tom Traubert's Blues" performed by Rod Stewart; and "Ol' '55," performed by the Eagles. Although Waits' albums have met with mixed commercial success in his native United States, they have occasionally achieved gold album sales status in other countries. He has been nominated for a number of major music awards and has won Grammy Awards for two albums, Bone Machine and Mule Variations.
Waits currently lives in Sonoma County, California with his wife and their three children.
Search for Free Sheet Music

You can make a search through the entire collection of sheets.
Latest Artists