Roy Orbison Sheet Music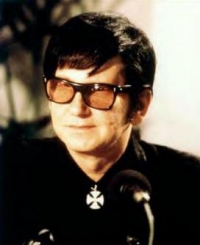 Roy Kelton Orbison (April 23, 1936 – December 6, 1988) was an American singer-songwriter and musician, well known for his distinctive, powerful voice, complex compositions, and dark emotional ballads. Orbison grew up in Texas and began singing in a rockabilly / country & western band in high school until he was signed by Sun Records in Memphis. His greatest success was with Monument Records in the early 1960s where 22 of his songs placed on the Top Forty, including "Only the Lonely", "Crying", "In Dreams", and "Oh, Pretty Woman". His career stagnated through the 1970s, but several covers of his songs and the use of one in a film by David Lynch revived his career in the 1980s. He joined the supergroup The Traveling Wilburys with George Harrison, Bob Dylan, Tom Petty, and Jeff Lynne and released an album in 1988. He died of a heart attack at the age of 52, at the zenith of his resurgence.
Orbison was a natural baritone, but since 1961 writers have speculated that he had a three or four-octave range. The combination of Orbison's powerful, impassioned voice, and the complex musical arrangements in his songs led many in rock and roll to refer to his music as operatic, calling him the "Caruso of Rock". Performers as disparate as Elvis Presley and Bono stated his voice was, respectively, the greatest and most distinctive they had ever heard. While most men in rock and roll in the 1950s and 1960s portrayed a defiant masculinity, many of Orbison's songs instead conveyed a quiet, desperate vulnerability. He experienced tragedies in his life including the death of his first wife and his children on separate occasions. He was known for performing while standing still and solitary, wearing black clothes and dark sunglasses which lent an air of mystery to his persona.
Orbison was initiated into the second class of the Rock and Roll Hall of Fame in 1987 by longtime admirer Bruce Springsteen. The same year he was inducted into the Nashville Songwriters Hall of Fame. Rolling Stone listed Orbison as No. 37 in their list of The Greatest Artists of All Time. In 2002, Billboard magazine listed Orbison at No. 74 in the Top 600 recording artists. Rolling Stone rated Orbison at No. 13 in their list of The 100 Greatest Singers of All Time in 2008.
Search for Free Sheet Music

You can make a search through the entire collection of sheets.
Latest Artists