The Wizard of Oz Sheet Music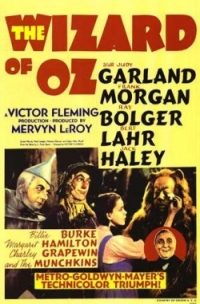 The Wizard of Oz is a 1939 American musical-fantasy film mainly directed by Victor Fleming and based on the 1900 children's novel The Wonderful Wizard of Oz by L. Frank Baum. The film features Judy Garland as Dorothy Gale, Ray Bolger as the Scarecrow, Jack Haley as the Tin Man, Bert Lahr as the Cowardly Lion, Billie Burke as Glinda the Good Witch of the North, Margaret Hamilton as the Wicked Witch of the West, and Frank Morgan as the Wizard.
The film follows schoolgirl Dorothy Gale who lives on a Kansas farm with her Aunt Em and Uncle Henry, but dreams of a better place "somewhere over the rainbow." After being struck unconscious during a tornado by a piece of broken window, Dorothy dreams that she, her dog Toto, and the farmhouse are transported to the magical Land of Oz. There, the Good Witch of the North Glinda advises Dorothy to follow the yellow brick road to Emerald City and meet the Wizard of Oz, who can return her to Kansas. During her journey, she meets a Scarecrow, Tin Man and a Cowardly Lion, who join her, hoping to receive what they lack themselves (a brain, a heart, and courage, respectively), all of this is done while also trying to avoid the many plots of the Wicked Witch of the West, in her attempt to get the ruby slippers that Dorothy received from the squashed Wicked Witch of the East.
The Wizard of Oz is widely noted for its musical selections and soundtrack. The songs from The Wizard of Oz became widely popular, with "Over the Rainbow" receiving the Academy Award for Best Original Song, and the film itself garnering several Academy Award nominations, including Best Picture.
Search for Free Sheet Music

You can make a search through the entire collection of sheets.
Latest Artists