Puccini Sheet Music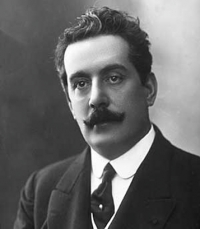 Giacomo Antonio Domenico Michele Secondo Maria Puccini (December 22, 1858 – November 29, 1924) was an Italian composer whose operas, including La Bohème, Tosca, and Madama Butterfly, are among the most frequently performed in the standard repertoire. Some of his arias, such as "O Mio Babbino Caro" from Gianni Schicchi, "Che gelida manina" from La Bohème, and "Nessun Dorma" from Turandot, have become part of popular culture.
The subject of Puccini's style is one that has been long avoided by musicologists; this avoidance can perhaps be attributed to the perception that his work, with its emphasis on melody and evident popular appeal, lacked "seriousness" (a similar prejudice beset Rachmaninoff during his lifetime). Despite the place Puccini clearly occupies in the popular tradition of Verdi, his style of orchestration also shows the strong influence of Wagner, matching specific orchestral configurations and timbres to different dramatic moments. His operas contain an unparalleled manipulation of orchestral colors, with the orchestra often creating the scene's atmosphere.
The structures of Puccini's works are also noteworthy. While it is to an extent possible to divide his operas into arias or numbers (like Verdi's), his scores generally present a very strong sense of continuous flow and connectivity, perhaps another sign of Wagner's influence. Like Wagner, Puccini used leitmotifs to connote characters (or combinations of characters). This is apparent in Tosca, where the three chords which signal the beginning of the opera are used throughout to announce Scarpia. Several motifs are also linked to Mimi and the Bohemians in La Bohème and to Cio-Cio-San's eventual suicide in Butterfly. Unlike Wagner, though, Puccini's motifs are static: where Wagner's motifs develop into more complicated figures as the characters develop, Puccini's remain more or less identical throughout the opera (in this respect anticipating the themes of modern musical theatre).
Search for Free Sheet Music

You can make a search through the entire collection of sheets.
Latest Artists