OneRepublic Sheet Music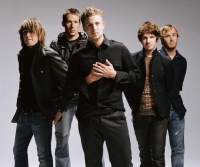 OneRepublic is an American Rock band formed in Colorado. After a few years of moderate success, they have since drawn mainstream attention with the release of their single "Apologize," which has sold in excess of 7 million singles worldwide. The song, according to SoundScan Data, is one of only two songs that have reached 3 million legal downloads in history. A remix of "Apologize" was featured on Timbaland's Shock Value and the band's debut album, Dreaming Out Loud, produced by Greg Wells. Their debut album was released in the United States on November 20, 2007, with international release dates staggered throughout early 2008. As of June 14, 2008, Dreaming Out Loud had sold 761,298 copies in the U.S. with the bands total album sales coming to over 1.5 million worldwide so far. The band's second single, "Stop and Stare," has also crossed the 2 million mark in terms of worldwide single sales. Their third single, "Say (All I Need)", has been released in the UK and in the U.S. Their fourth single will be "Mercy", as stated by OneRepublic's MySpace page. The video has been streamed on Youtube.com.
Current members:
Ryan Tedder – Lead vocals, Guitar, Bass Guitar, Piano, Glockenspiel, Drums (2002–present)
Zach Filkins – Guitar, vocals (2002–present)
Drew Brown – Guitar, Bass Guitar, Glockenspiel (2002–present)
Eddie Fisher – Drums, percussion (2005–present)
Brent Kutzle – Bass guitar, keyboards, cello, vocals (2007–present)
Search for Free Sheet Music

You can make a search through the entire collection of sheets.
Latest Artists