Mamas And The Papas Sheet Music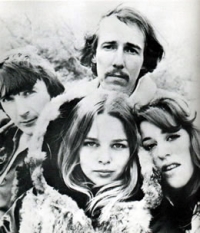 The Mamas & the Papas (credited as The Mama's and the Papa's on the debut album cover) were a vocal group of the 1960s. The group recorded and performed from 1965 to 1968 with a short reunion in 1971, releasing five albums and 11 Top 40 hit singles. They have sold nearly 40 million records worldwide.
Their signature sound was based on four-part male/female vocal harmonies arranged by John Phillips, the band's songwriter who managed to "leave the folk music behind" and blend his writing with the new "beat" sound in an unprecedented mode. On the other hand, The Mamas & the Papas were riven by internal frictions almost from the start which inevitably made them short-lived as a working band. This, as well as other heavily discussed issues like "Who sang and who was edited out from what final mix?" has contributed to the group's myth even forty years later.
Search for Free Sheet Music

You can make a search through the entire collection of sheets.
Latest Artists