Vince Guaraldi Sheet Music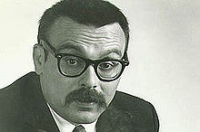 Vincent Anthony "Vince" Guaraldi (July 17, 1928 – February 6, 1976) was an Italian American jazz musician and pianist noted for his innovative compositions and arrangements and for composing music for animated adaptations of the Peanuts comic strip. Guaraldi was born in San Francisco, California. He graduated from Lincoln High School, attended San Francisco State University, and served as an Army cook in the Korean War.
While searching for just the right music to accompany a planned Peanuts television documentary, Lee Mendelson (the producer of the special) heard a single version of "Cast Your Fate to the Wind" by Vince Guaraldi's trio on the radio while traveling in a taxicab on the Golden Gate Bridge in San Francisco, California. Mendelson contacted Ralph J. Gleason, jazz columnist for the San Francisco Chronicle and was put in touch with Guaraldi. He proposed that Guaraldi score the upcoming Peanuts Christmas special and Guaraldi enthusiastically took the job, performing a version of what became "Linus and Lucy" over the phone two weeks later. The soundtrack was recorded by the Vince Guaraldi Trio, whose other members were Puzzy Firth standing in bassist for band member Fred Marshall, who was ill at the time, and drummer Jerry Granelli. Guaraldi went on to compose scores for sixteen Peanuts television specials, plus the feature film A Boy Named Charlie Brown as well as the unaired television program of the same name.
Search for Free Sheet Music

You can make a search through the entire collection of sheets.
Latest Artists